Edgewater Plaza
5445 N Sheridan | Edgewater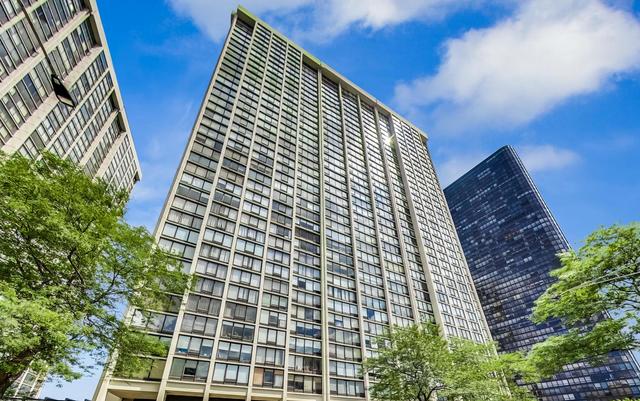 About the Building
Standing at 5445 N Sheridan Avenue, the Edgewater Plaza is a 38-floor, 466-unit condo located in Chicago's Edgewater neighborhood. This attractive building overlooking the city and the lake was completed in 1971 and turned into condos in 1978. From the amenities to the location, the Edgewater Plaza offers a lot while nestled in one of the city's beloved neighborhoods.
One of the biggest deal breakers when finding a new place to live is the amenities offered. The Edgewater Plaza covers all bases with a 24-hour doorman, dry cleaners, receiving room, laundry room, sundeck with grills and tennis court, library, hospitality room and indoor pool. Pets are not allowed in this building.
Whether you are in the market for a small 1 bedroom perfect for lounging or a 2 bedroom with spacious room to spread out, the Edgewater Plaza has something for everybody. One bedroom units offer 850 square feet of living space with just the right amount of room to relax and feel at home. If you're interested in something a bit bigger, 2-bedroom units offer approximately 1,300 square feet to not only stretch out but also entertain guests with ease thanks to 80 square feet of kitchen space and 120 square feet of dining room area. The Edgewater Plaza also has 3-bedroom units covering 1,650 square feet of living space with 255 square feet living rooms and master bedrooms offering 270 square feet of space.
Just minutes from the lakefront and the bike paths of Lake Shore Drive, this Edgewater location offers easy access to anywhere you need to get to in the city. With a Walk Score of 78 and a Transit Score of 76, running errands and exploring Chicago poses no problems. Edgewater offers plenty of unique shopping and dining experiences and is home to many playhouses focusing on both classic and more experimental theater.
Learn more about Edgewater Plaza
Floorplans