Waldorf Astoria
11 E Walton | Gold Coast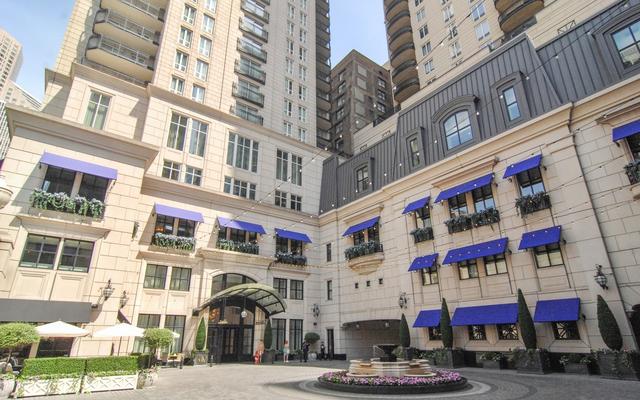 About the Building
Designed by famed architect Lucien Lagrange, the Waldorf Astoria, formerly the Elysian, is one of the newest additions to Chicago's luxury real estate scene. In fact, the Waldorf Astoria has become a distinguishing landmark for the Gold Coast neighborhood skyline, due to its Parisian-style steel-grey mansard roof that sets it apart from other high-rises in the area.
Located at 11 E. Walton Street, the Waldorf Astoria is a mixed-use building with 188 hotel guest rooms and 51 residential units. The top-rated hotel was acquired by an investment group in late 2011. The building changed from the Elysian to the Waldorf Astoria in February, 2012.
Homes at the Elysian are spacious and appointed with high-end finishes throughout. Unit floor plans range from studios with 600 square feet of living space to an impressive four-bedroom penthouse that boasts upwards of 7400 square feet. The building is well-equipped to cater to residents every whim with 24-hour concierge and door attendant, on-site manager, clubhouse party room and a state-of-the-art health spa and fitness center that includes an outdoor swimming pool, sauna, whirl pool and other services.
Individual units at 11 E. Walton Street feature 10 – 12 ft. ceiling heights, hardwood floors, fireplaces, top-of-the-line kitchen appliances and private balconies. Electricity, heat, water, gas, cable and satellite TV are included in monthly assessments at the Waldorf Astoria, which is situated a block and a half off the Magnificent Mile (Chicago's celebrated shopping corridor). There are plenty of excellent restaurants within a few blocks of 11 E. Walton Street, as well as public parks and cultural institutions, such as Washington Square Park, Connors Park and the Newberry Library.
Chicago's Gold Coast neighborhood is considered one of the city's most affluent communities. The main streets are home to couture fashion boutiques and world-class dining destinations, while its side streets are lined with multimillion-dollar single-family homes and deluxe residential high-rises. It is a beautiful place to live and well-coveted among Chicago's wealthy real estate investors. In addition to stunning vintage architecture, the neighborhood has an abundance of towering trees, green foliage and landscaped sidewalk planters. And with Oak Street Beach just two blocks east of 11 E. Walton Street, the lakefront is easily accessible to Waldorf Astoria residents—and easily viewed from its upper-level homes for sale.
Learn more about Waldorf Astoria
Floorplans