1000 N Lake Shore Drive
Gold Coast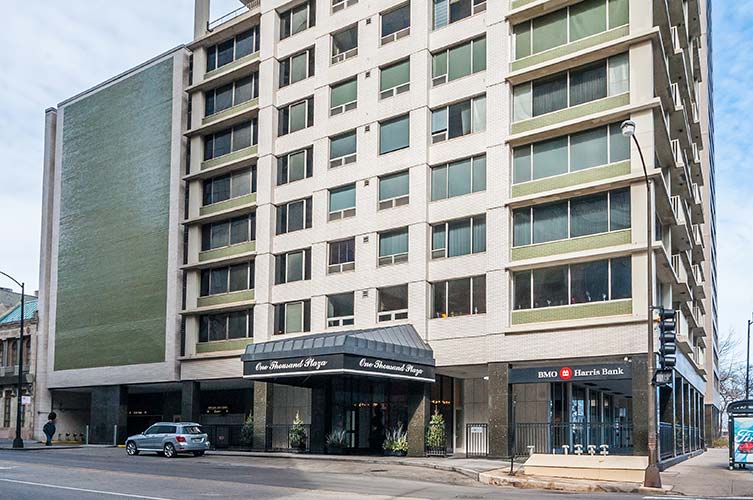 About the Building
Although it's one of the shorter high-rises in Chicago's fashionable Gold Coast neighborhood, residents of 1000 N. Lake Shore Drive enjoy breathtaking unobstructed views of the Gold Coast and Oak Street Beach from their condos. This 23-story condo development is one of the most desirable places to live in this part of Chicago, offering older yet well-updated residences. From the individual unit features to the useful building services and facilities, this site is a homeowner's dream.
Just south of 1000 N. Lake Shore Drive is 1000 N. Lake Shore Plaza, a taller condo built about 10 years later that offer 55 floors of high-rise living. This building also has excellent sightlines of Lake Michigan and the surrounding skyscrapers. 1000 N. Lake Shore Plaza has a state-of-the-art workout room and great swimming pool for resident use, plus a doorman on duty at the main entrance. The units come in a number of layouts and offer residents a range of pricing to suit all family sizes and budgets. Generally speaking, the price per square foot for property at 1000 N. Lake Shore Drive is $261, with an average square footage of 787. The smallest units offer 700 square feet of living space, while the largest ones encompass 3,300 square-foot floor plans. The maximum number of bedrooms available in this building is three. On the other hand, if you don't need a lot of room, there are 1-bedroom units as well.
The standard length of time a unit in this building stays on the market is 91 days, although some take as long as 224 days to sell. The average listing price for these units is slightly above the market price and the average sale price is $199,680. To give a better idea of the going rate for property in this particular building, a 1-bedroom here went for $204,000 in May of 2007.
In addition to the price of the units themselves, it is always helpful to know how much you're going to have to pay in taxes and assessments to live somewhere. For this Gold Coast residential building, homeowners generally pay $2,027 per year in taxes and an average of $569 in assessments each month.
One more thing: in case you have a little furry friend at home who is planning on making the move with you, this building welcomes smaller pets (dogs are limited to one under 30lbs). So go ahead and pack up the toys, leashes, litter boxes, and food dishes because Fido or Fluffy may just become the newest four-legged resident at 1000 N. Lake Shore Drive or 1000 N. Lake Shore Plaza, next door.
Visit our full site for 100 N Lake Shore Drive.
Learn more about 1000 N Lake Shore Drive