River Plaza
405 N Wabash | River North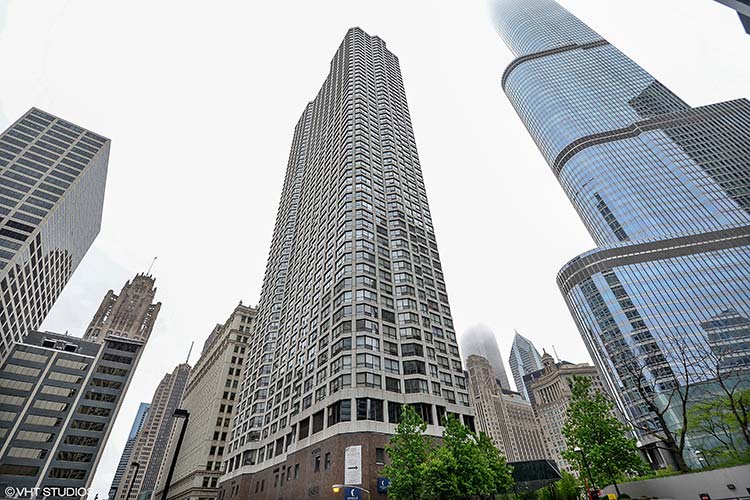 About the Building
Situated at 405 N. Wabash, this high-rise condo development in Chicago's River North neighborhood is built from the ground up to mix the comfort of owning your own home with the sophistication of downtown living. In view of this, the residences at 405 N. Wabash combine everyday necessities with the stamp of luxury – creating the ultimate dream home.
For your daily commute, you're conveniently located across the river from the Loop, which gives you access to all train lines and many bus stops. When it comes to luxury, River Plaza has spared no expense. Beautiful views of the river and the Chicago skyline accompany luxury amenities like an indoor pool, a whirlpool Jacuzzi, 24-hour doorman, and a grocery store and deli. Relax at the state of the art health club with fitness center and orthopedic therapist, and pamper yourself with the help of River North's beauty salon and a dry cleaning service.
Between Kinzie and Hubbard, two blocks north of the Chicago River, River Plaza stands alongside many Chicago landmarks in the heart of downtown. The building is next to the Trump Tower, and within easy walking distance of both the Wrigley Building and the Merchandise Mart.
The location blends the timeless elegance of classic Chicago buildings with masterpieces of contemporary architecture. Your home will be situated in the trendy River North neighborhood – a short walk from shopping on Michigan Avenue and the Chicago nightlife scene that features clubs like Castle Chicago and Sound Bar. For a taste of culture, visit Chicago's world-class theaters, parks, and museums, which are a short walk away.
The River Plaza also features convenient building services. You have the option to choose from a number of different layouts that incorporate varied room sizes give you the chance to select a living space that suits your needs.
Learn more about River Plaza
Floorplans