The Wellington
360 W Wellington | Lakeview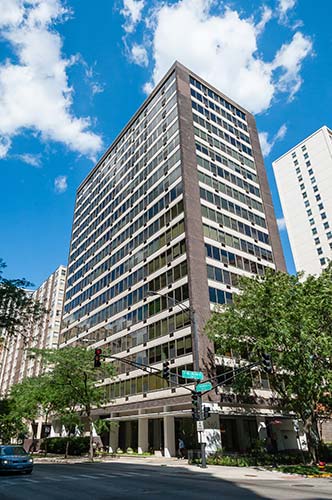 About the Building
Here at 360 W. Wellington, homebuyers find an attractive, well-maintained condo development in the beautiful environs of Lakeview neighborhood. This residential high-rise was first built in 1960, and it was one of the first condo buildings in the country. In addition to the ideal location, residents of the Wellington enjoy excellent views of Lincoln Park, Lake Michigan and the downtown Chicago skyline.
Part of the reason that so many homeowners love this particular site is because the residences at 360 W. Wellington incorporate the necessities with a touch of luxury from spacious living rooms to 80 square-foot kitchens. Get all the contemporary amenities and modern features of today's best big city homesteads without sacrificing a bit of charm.
Housing 100 separate units, the Wellington offers a number of different layouts to suit its residents' individual needs and preferences. Whether you want a 3-bedroom place with a 193 square-foot master suite, or simply desire a 1-bedroom unit with enough space for you and your pet (which, by the way, are permitted in this building), the various floorplans will have the perfect fit to make you feel right at home.
While size is a major factor in selecting a new place to live, price is up there, too. Of course it's all relevant-the larger the unit the bigger the price tag-but to give you a general idea, the price per square foot for property in this building is $225, with an average listing price around $229,500 and an average selling price of $206,492. Typically, properties in this Lakeview building are on the market for 76 days. And, as is standard for most residential real estate, some unit sizes sell quicker than others. The most recently purchased unit here was a 1-bedroom home which sold for $189,000 in September of 2007.
Learn more about The Wellington
Floorplans