James House
1560 N Sandburg Ter | Gold Coast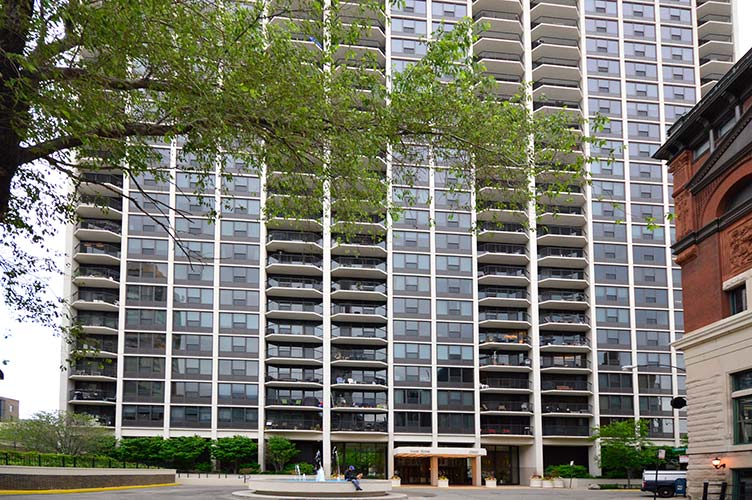 About the Building
This impressive high-rise condo development at 1560 N. Sandburg Terrace stands at 43 floors, overlooking the beautiful Gold Coast neighborhood of Chicago. The building, which was built in the early 1970s, offers spacious units, quality construction and all the amenities you need to live in comfort and style. From the individual unit features to the useful building services and facilities, this site is a homeowner's dream.
The units at James House come in a number of layouts and offer residents a range of pricing to suit all family sizes and budgets. An average square footage for a unit is 634. The smallest units offer 620 square feet of living space, while the largest ones encompass 641 square-foot floorplans. The maximum number of bedrooms available in this building is 2 which can be 200+ square feet in area. On the other hand, if you don't need a lot of room, there are studio units that are 132 square feet.
The Sandburg Village offers plenty of highly sought after amenities such as a clubhouse party room, playground, sundeck, tennis courts and indoor and tenant parking. In addition, the James House provides an exercise room that isn't merely some empty room stuffed with two treadmills, but equipped with a variety of fitness machines and free weights.
With a Walk Score of 98, everything you need is easily accessible at James House. Michigan Avenue and the Magnificent Mile are close by offering a wide array of shopping and dining options. Famed Chicago institution Gibson's Bar and Steak House on Rush as well as the plethora of high fashion retailers along Oak Street are all close by making 1560 N. Sandburg a prime spot on the city's Gold Coast.
One more thing, in case you have a little furry friend at home who is planning on making the move with you-this building welcomes pets. So go ahead and pack up the toys, leashes, litter boxes, and food dishes because Fido or Fluffy may just become the newest four-legged neighbor at 1560 N. Sandburg Terrace.
Learn more about James House
Floorplans