3430-3440 N Lake Shore Drive
Lakeview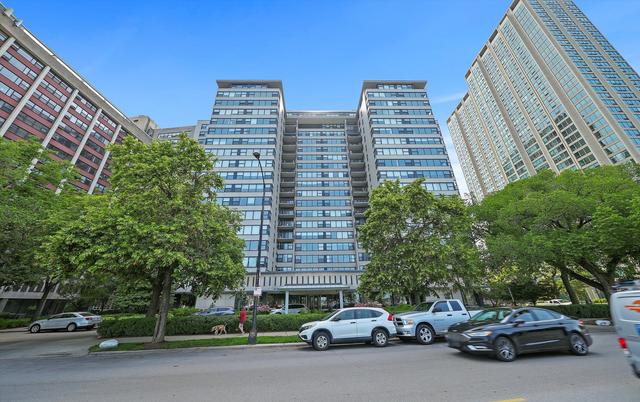 About the Building
Brimming with real estate opportunities from the lakefront to the suburbs, this Midwest town is the place to find that perfect home-whether it's on the twentieth floor of a condominium or a few steps up in a two-story walkup. Who knows, perhaps you'll discover your ideal right here...
Situated in the Lakeview neighborhood of Chicago, 3430-3440 N. Lake Shore Drive is a sought-after residential development that offers quality construction, roomy units and the modern amenities and services you need to live in comfort and style in the big city. Built in the past couple of decades, this structure houses 220 individual units and includes valet parking to accommodate residents with vehicles. The various floorplans consist of anywhere from 1 to 3 bedrooms with an average master bedroom size of 157 square feet and a second bedroom of 168 square feet. However, if you prefer a bit more space to sleep in, there are 182 square-foot bedrooms available in several units.
Some of the building's smaller living rooms provide 196 square feet in which to put that plush wrap-around couch and the new flat screen TV, but the average size is 280 square feet for the main room. Either way, you'll have enough room to veg and watch your television shows on those quiet nights, or host great get-togethers for the occasional celebratory event or impromptu gathering. Just make sure no little four-legged friends sneak into the party because it would violate the building strict no pets policy.
While the ability to host parties is often an essential factor in buying a home, there are other more fiscal-aspects you're probably interested in knowing. For example, what the price per sq. foot is for the units in the building and what the properties here are selling for these days. Well, lucky for you, we've got that info right here, too.
At 3430-3440 N. Lake Shore Drive, the average price per square foot is $239.00, with the minimum listing price for the building at $217,000.00. While certain size units (meaning a two- versus a three-bedroom) sell better than others, a 1-bedroom place most recently sold for $210,000.00 just around 09/04/2007. On top of the pricing data, it's nice to know the market stats for the particular site as well. Once again, we've got that right here for you.
The maximum length of time a unit in this building stays on the market (which means the time between listing and closing) is 189 days. The minimum number of days it takes to sell real estate in this Lakeview building is 35 days. Of the units that are currently listed, 1-bedroom residences are typically on the market for an average of 67 days.
Learn more about 3430-3440 N Lake Shore Drive
Floorplans