Chicago Real Estate Agents
Once you've found the right real estate agent you're on your way to making your dreams a reality!
Finding a real estate agent is an important step that deserves careful consideration. Pick a Realtor you're comfortable with and trust, who is familiar with your type of situation. It will put your mind at ease and make your experience fun and exciting. Whether you're buying, selling or building, the Chicago real estate agents of the Dream Town team are here to walk you through the process, every step of the way.
Featured Consultants
Select Featured Consultants Below to View Bio: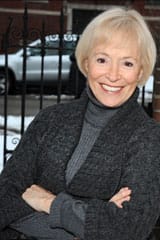 10 Reviews
Residential Specialist
312.265.4925 (Direct)
312.502.3520 (Cell)
312.265.4926 (Fax)
Email Me
2012, 2010, 2009 Top Producer, Awarded by the Chicago Association of Realtors
For thirty years, Chicago real estate has been Connie's passion, with special focus on houses, condominiums and two to four flats. Her geographic areas of greatest expertise are: The Gold Coast, Lincoln Park, Lakeview, Bucktown, Ukrainian Village and the new East Side.
With so many years invested in this profession, Connie sometimes thinks about how much the years have taught her. Tough markets with falling prices are not shocking to her. She recalls that in her second year in real estate, the nation had gas lines and 18% interest rates. She creatively adapted with owner financing and creative marketing, surviving in the business and learning from the hard times.
Connie is a maniac for details. Her sellers rely on her to help them achieve the highest price for their property in the least amount of time. With that aim, Connie started using stagers 15 years ago, before most agents knew what it was. Real estate is a visual art, and Connie's sellers' properties gleam before anyone sees them. Beautiful brochures with professional photos and well-written descriptions are all important to the process. Still, in this market, pricing is the single most important function. Connie's vast experience and market knowledge help sellers price their homes realistically. Even so, real estate is not a science, and when there are no obvious comparables, she constantly monitors the price versus activity. Sometimes just a little tweak of $10,000 can make the difference between getting offers and not.
Buyers depend on Connie's market knowledge and negotiating skills to help them determine the best property in the most convenient location for the most reasonable price. Once she and her client have pinpointed the right property, Connie works tirelessly to make sure all the details of the transaction move smoothly, and provides support services from start to finish. She encourages clients to call for referrals for any service people they may need after they have closed. Connie maintains a large contact list of qualified service people she can share with them.
Best of all, many of Connie's clients become her friends. She sees them through marriages, new babies, transfers, and the empty nest. Connie is proud and flattered to say that now she is even working with some of their kids.
Dream Town Real Estate Consultants
Find a Real Estate Consultant
Dream Town Realty, Inc. - 1950 N. Sedgwick, Chicago IL 60614
Tel: 312.265.8000 | Fax: 312.242.1001 | Career Opportunities
Click on any agent's name or picture for a bit about their background and area of specialization.
Simply Complete And Submit this Form To Get Matched With A Consultant