Chicago Real Estate Agents
Once you've found the right real estate agent you're on your way to making your dreams a reality!
Finding a real estate agent is an important step that deserves careful consideration. Pick a Realtor you're comfortable with and trust, who is familiar with your type of situation. It will put your mind at ease and make your experience fun and exciting. Whether you're buying, selling or building, the Chicago real estate agents of the Dream Town team are here to walk you through the process, every step of the way.
Featured Consultants
Select Featured Consultants Below to View Bio: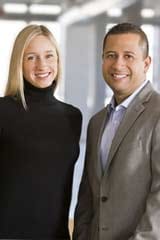 15 Reviews
Residential Specialist
312.878.0451 (Direct)
773.459.1119 (Cell)
312.878.0452 (Fax)
Email Me
Good decisions start with good information. That is why you need to pick a trusted advisor to help you with the many decisions you will encounter while buying or selling your home. Mike and Sarah pride themselves on being honest, knowledgeable, and driven. The combination of their extensive market knowledge and excellent negotiating skills enable them to get you the most value for your home. Trust is hard to come by in today's real estate market, but Mike and Sarah want to assure you that they have the professionalism and integrity to represent you in one of the biggest decisions of your life.
Mike is a lifelong native of the north side of Chicago. He is a graduate of University of Illinois with a major in Finance and has also earned a Master's Degree in Public Administration from Lewis University. His inherent knowledge of every neighborhood in Chicago is magnified by his experience working for over ten years as a Sergeant for the Chicago Police Department in almost every area of the city. Mike is an extremely giving person and has a strong desire to help others which has lead him to the real estate industry. He loves to learn, and to teach others in the process. His clients can be assured that he has the professionalism and integrity they deserve while buying or selling real estate.
Mike enjoys spending time with his wife, twin daughters, and two dogs as well as his family and friends when he is away from work. He also enjoys bike riding, working on his home, and dining in Chicago's great restaurants. He loves learning new things every day about this city. In his free time he volunteers for the Daniel Murphy Scholarship Foundation as well as the Chicago Foundation for Education. He is also involved with the Chick Evans Scholarship Alumni Association These organizations help kids when they need it most - early on in their education.
Sarah graduated from the University of Iowa with a degree in Nursing. She moved to Chicago in 2001, and has enjoyed working as an Oncology, Neurosurgery, and Medical-Surgical nurse at Rush Medical Center downtown. Sarah loves the city life, and decided to branch off and explore her passion for real estate. Sarah truly is a people person. She has the competence and optimism that will make her clients feel at ease. She wants to make the process of buying and selling real estate to be straightforward, successful, and fun for her clients. Sarah will bring confidence and a contagious enthusiasm to any situation.
Sarah enjoys running, listening to live music, and spending time on the water. She appreciates photography and architecture. Sarah can often be found reading magazines and watching the latest trends in home repair and design. She has lived in and loved many different neighborhoods of the city, but currently resides on the Northwest side of the city with her husband, twin daughters and dogs. She volunteers for Chicago Foundation for Education, which awards teachers with grant money to be used towards enriching their student's education.
Mike and Sarah proudly joined the Swake Group of Dream Town Realty in 2008 and they believe the dedication, integrity, and professionalism of their partners have led to the great successes that the team has experienced.
Dream Town Real Estate Consultants
Find a Real Estate Consultant
Dream Town Realty, Inc. - 1950 N. Sedgwick, Chicago IL 60614
Tel: 312.265.8000 | Fax: 312.242.1001 | Career Opportunities
Click on any agent's name or picture for a bit about their background and area of specialization.
Simply Complete And Submit this Form To Get Matched With A Consultant