Chicago Real Estate Agents
Once you've found the right real estate agent you're on your way to making your dreams a reality!
Finding a real estate agent is an important step that deserves careful consideration. Pick a Realtor you're comfortable with and trust, who is familiar with your type of situation. It will put your mind at ease and make your experience fun and exciting. Whether you're buying, selling or building, the Chicago real estate agents of the Dream Town team are here to walk you through the process, every step of the way.
Featured Consultants
Select Featured Consultants Below to View Bio: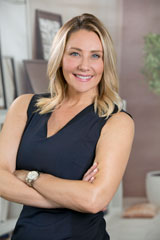 21 Reviews
Residential Specialist
312.423.9239 (Direct)
773.306.8700 (Cell)
312.423.9240 (Fax)
Email Me
2002–2015 Top Producer, Awarded by the Chicago Association of Realtors
Stephanie Wesson came to Chicago over 15 years ago knowing only two people and has transformed herself into one of Chicago's consistently top producing real estate consultants, winning rave reviews and intense loyalty from an ever-growing client base along the way.
Founder of the Wesson Residential Group at Dream Town, she is known for her attention to detail, creativity that helps her clients identify what they want and need in a property, and determination to structure and negotiate the best possible outcome for her clients.
"I've learned that the ability to have a good balance of creative, rational and fiscal competencies is rare yet essential to providing exceptional representation for my clients whether they are a buyer, a seller and/or an investor."
When you meet Stephanie you quickly realize her energy, depth of knowledge, sincerity, and desire to get her clients what they want.
She and her team employ a disciplined regimen prior to selling a home. This is a proven system that includes a detailed analysis of current market conditions, an assessment of market value in order to properly position the home in the market, identification of target buyer markets, and optimization of how the home is presented to buyers. Wesson Residential Group then utilizes the best, state of the art web-based marketing technologies powered by Dream Town; effective photographic tools, and the highest quality printed advertising/marketing materials. These methods are designed to ensure that the property is presented to maximize value to the widest audience of active homebuyers.
As a buyer or an investor, clients can expect the immediate realization from their first conversation that that their goals and interests are aligned and they've hired an expert takes pride in providing exceptional service and advice.
Stephanie was "Rookie of the Year" her first year in Real Estate, and has been recognized as a "Top Producer" ever since. She takes pride of the fact that client loyalty has made the Wesson Residential Group's business almost 98% referral and repeat business-based. Forging ahead, she is committed to continuing and growing that trend.
If you or anyone you know is in need of real estate services, please contact Stephanie and the Wesson Residential Group for assistance in buying, selling, investing or relocating to/from the Chicagoland area. We look forward to working with you.
Dream Town Real Estate Consultants
Find a Real Estate Consultant
Dream Town Realty, Inc. - 1950 N. Sedgwick, Chicago IL 60614
Tel: 312.265.8000 | Fax: 312.242.1001 | Career Opportunities
Click on any agent's name or picture for a bit about their background and area of specialization.
Simply Complete And Submit this Form To Get Matched With A Consultant