Chicago Real Estate Agents
Once you've found the right real estate agent you're on your way to making your dreams a reality!
Finding a real estate agent is an important step that deserves careful consideration. Pick a Realtor you're comfortable with and trust, who is familiar with your type of situation. It will put your mind at ease and make your experience fun and exciting. Whether you're buying, selling or building, the Chicago real estate agents of the Dream Town team are here to walk you through the process, every step of the way.
Featured Consultants
Select Featured Consultants Below to View Bio: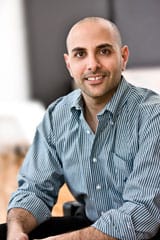 28 Reviews
Residential Specialist
312.423.9216 (Direct)
773.387.4949 (Cell)
312.423.9217 (Fax)
Email Me
Ben Shalom's approach is to always put himself in his clients' shoes. In doing so, Ben sees all properties, whether representing buyers or sellers, through their eyes. He holds himself accountable every step of the way and most importantly keep his clients' best interests in mind at all times. Ben's number one priority is to ensure that his clients' are completely satisfied with his services. It will not take long to discover that he takes pride in all that he does and will always go above and beyond.
Ben joined Dream Town as a Residential Specialist in January of 2006. During this time, Ben has built a strong referral base as a result of representing buyers and sellers in successful transactions with favorable outcomes and client satisfaction.
He is a knowledgeable, diligent, honest, a great listener and direct communicator. His detail-oriented approach helps him to filter out irrelevant information, focus on critical issues that best serve clients' real estate interests and allows him to be a relentless advocate for all their needs.
In 2008, Ben started working with Banks on REO/Bank Owned Properties. Through this experience, he has acquired additional knowledge regarding bank procedures. As the bank listing agent, Ben currently has inventory of REO/Bank Owned Properties. He can assist and guide his clients' through traditional and REO sales. The ultimate package!
Ben holds a professional designation as an Accredited Distressed Property Representative (ADPR).
Ben is certified in Residential Property Management (CRPM) from the Chicago Association of Realtors. The CRPM designation enables Ben to be more successful in his realty career by arming him with management and preventative maintenance techniques, and as an association member he also stays current on the latest ethical and legal residential property management practices.
In his free time, Ben likes to travel, scuba dive, motorcycle ride, swim and just enjoy life and family.
Ben has resided in Chicago for over 12 years. He is a father to precious daughter, Mia.
Dream Town Real Estate Consultants
Find a Real Estate Consultant
Dream Town Realty, Inc. - 1950 N. Sedgwick, Chicago IL 60614
Tel: 312.265.8000 | Fax: 312.242.1001 | Career Opportunities
Click on any agent's name or picture for a bit about their background and area of specialization.
Simply Complete And Submit this Form To Get Matched With A Consultant