Chicago Real Estate Agents
Once you've found the right real estate agent you're on your way to making your dreams a reality!
Finding a real estate agent is an important step that deserves careful consideration. Pick a Realtor you're comfortable with and trust, who is familiar with your type of situation. It will put your mind at ease and make your experience fun and exciting. Whether you're buying, selling or building, the Chicago real estate agents of the Dream Town team are here to walk you through the process, every step of the way.
Featured Consultants
Select Featured Consultants Below to View Bio: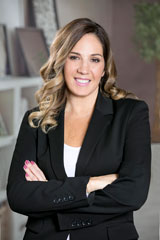 18 Reviews
Residential Specialist
773.412.3047 (Cell)
312.423.9258 (Fax)
Email Me
2009–2015 Top Producer, Awarded by the Chicago Association of Realtors
Exclusively featured agent on HGTV's House Hunters
As a lifelong Chicago and North Shore resident, Brooke's innate understanding of the Chicago real estate market extends through all aspects of her life. For as long as she can remember, real estate has been a major passion and priority. From her earliest memories of being dragged to open houses by her mother, exploring the beautiful homes that line the Chicago lakefront; Brooke developed a deep-rooted love of homes with all their design and architectural potential.
Following her graduate school experience, Brooke's years spent marketing with Jim Beam Brands enabled her to master those critical people skills of negotiating, selling, and business strategizing. The culmination of all this experience led her to a decision that was inevitable; to pursue a full time career in the real estate business. Brooke's extensive background in psychology, sales, and marketing all contribute significantly to her being a well-rounded real estate professional.
Now as a full time real estate professional, Brooke takes from her previous experience and revels in the path she took to get to her current destination with Dream Town Realty. She reminds herself every day how lucky she is to be doing something she loves and enjoys so much.
Working with both buyers and sellers and specializing in buyer agency, new construction, and resales, Brooke works to develop a plan to fit each individual's needs. Communication is critical part of this business and Brooke promises to make sure those lines are ALWAYS open.
Brooke comes to Dream Town from one of the top ranking sales teams in Chicago with over 90 million in sales from 2007-2008.
It is Brooke's philosophy that buying or selling property should be a smooth, enjoyable process. She knows that at times this process can seem overwhelming, involving a huge decision and an extremely large commitment. Brooke will do everything in her power to ensure her clients the most reliable, knowledgeable, and honest service available. This is certain!
"Brooke was always sincere and honest in her recommendations and was always available for questions, and to answer calls for whatever reason. I have no doubt whatsoever that Brooke Daitchman is worthy of a strong recommendation. Brooke's follow-through has been fantastic and I continue to hear from her on a regular basis."
-- Mark Diebold
Dream Town Real Estate Consultants
Find a Real Estate Consultant
Dream Town Realty, Inc. - 1950 N. Sedgwick, Chicago IL 60614
Tel: 312.265.8000 | Fax: 312.242.1001 | Career Opportunities
Click on any agent's name or picture for a bit about their background and area of specialization.
Simply Complete And Submit this Form To Get Matched With A Consultant